RC22 & 23 WAND
RC22 & 23 WAND Telescopic Radiation Detector
Pinpoint a potential radioactive source quickly and safely with a RC22 or RC23 Wand Fully automatic and easy to use
Light weight
Extendible for longer reach
Easy to read backlit display
Quick response time with variable alarm tone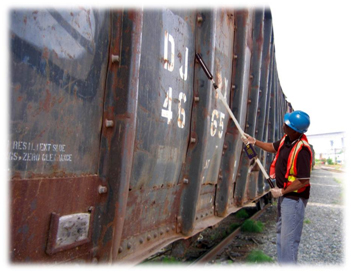 Fully Automatic and Operator Friendly
The RC22 and RC23 were designed to allow fast and easy inspection of areas, containers or vehicles that may contain radioactive material. Upon start up the unit will perform a background check and automatically set an alarm threshold for the user. In only seconds the RC22 and RC23 is ready for use.

Click for product datasheet PDF
Easy to Read Display with Audible Alarm
When radiation is detected the display will immediately show the increasing radiation levels. An audio alarm will also be activated to help locate the exact source of the radiation. The tone varies based upon the proximity and intensity of the radioactive source.
Available In Two Lengths and Two Head Sizes
RC22 is telescopic for a reach of 49" (124.5cm) to 99" (251.5cm). The telescopic pole serves two functions, one is to reach and scan an area that would normally be out of reach, and the second is to provide a safer operating distance between you and a potential radioactive source. The Wand is available in two different detector head sizes. The RC22 has a detector head size of 2"(5.1cm) for a total volume of 193cc. For greater sensitivity, the RC23 has a detector head size of 3"(7.6cm) for a total volume of 442cc.
SENSITIVITY
| | | | | |
| --- | --- | --- | --- | --- |
| | Cs | Co60 | Am | Volume |
| | CPS | CPS | CPS | CC |
| RC22 | 5.43 | 6.92 | 1.24 | 193 |
| RC23 | 11.78 | 17.85 | 2.18 | 442 |