SYCLONE
SYCLONE
The SYCLONE is a highly sensitive portable Gamma-Ray spectrometer capable of identifying single or multiple isotopes simultaneously.
The SYCLONE also provides the user with various functions such as Search and Find, Rate Meter, Dose Rates and accumulated Dose Rate.
Large Isotope Library
Lightweight
Battery Operated
4 position Joystick
Easy to Follow Menus
Large Internal Memory
Large Backlight Display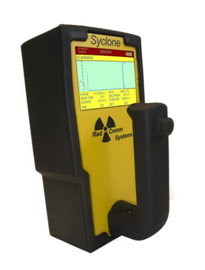 Click for product datasheet PDF
Detect gamma, x-ray and neutron radiation and identify isotopes in a sample
All of these enhanced features allow the SYCLONE to be one of the most accurate portable Gamma-Ray spectrometers when it comes to identifying single or multiple isotopes even with weak gamma emissions, and has accurate radiation dose assessment. The mechanical assembly of the SYCLONE is robust and designed for field applications where harsh environments are commonplace.
Simplified and Flexible
The SYCLONE operating system utilizes sensible easy to read and follow Menus. The multi-position joystick and largecolour LCD backlit display provides easy navigation through menu selections. Detailed spectral information is clearly and precisely displayed so that even users without extensive training can easily see scan results. Various on-screen messages assist the user when immediate attention is required for issues such as preset timing, high radiation levels, alarm settings and warning messages.
Remote SYCLONE PC Spectral Analysis and Data Storage Software
The SYCLONE is equipped with a high-capacity internal memory that allows large amounts of data to be stored by record number, date and time. Stored data such as spectral and dose rate information can be easily downloaded to a PC via micro USB or optional Bluetooth. The downloaded data can then be displayed and managed with the powerful SYCLONE PC software.
Primary features such as the selection and highlighting of R.O.I. details and Zoom In/Out of the gamma energy histogram can be easily performed. The SYCLONE PC software has all the necessary features that will meet the needs of virtually any user.