RC2PLUS
RC2PLUS
The RC2PLUS portable radiation detector utilizes advanced spectral techniques to enhance sensitivity for reliable detection of isotopes with extremely low Dose Rates.
The RC2PLUS is available in two versions; the Total Count Basic versions and the Advanced ROI Analyses version. The Basic version tracks the total count rate produced by all of gamma energies during the scanning period and sets an automatically sets an alarm threshold over the total background count rate average.

The Advanced ROI Analyses versions allows the operator to see the distributed gamma energies in a histogram form which specific ROIs can be selected for the desired energy ranges applicable to the requirement. Once the ROI ranges are selected, a specific alarm threshold can be set for each ROI. This unique technology provides extremely high sensitivity while decreasing the adverse effects caused by ambient background radiation. The RC2PLUS provides many additional features such as the display of gamma energy response in a histogram form, data storage, selected ROI count rate viewing.
The RC2PLUS stores operator selected results in a histogram record which can be downloaded via USB to RadComm's PC software for further analysis and archiving of information. Reports can be saved in PDF format. Remote servicing/diagnostics and software updates of the RC2PLUS can be achieved via a network with RadComm's software application.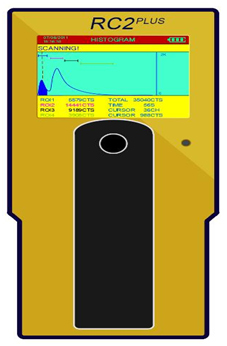 The RC2PLUS was designed specifically for any application where sensitivity detection capability must be extremely high even with elevated backgrounds.



Click for product datasheet PDF
Specifications
Mechanical
Detector Case: 7" H(18cm) x 9" L(23cm) x 4" W(10cm)
System weight
Micro USB Connector for Internal Battery Charging and data transfer
Thru-hole for Audio Alarm
Electronics
Integral PMT with EM Shielding
Audio Alarm with Vibration
Stable Low Noise, High Voltage Power Supply
Internal Rechargeable Li Ion Battery with Charging LED indicator
Battery Life: up to 20 hours
Battery Recharge Time:
Fast Charge: 2.5 hrs
via PC USB: 6 hrs min.
Software
Menu Driven User Interface
Configurable Data Storage with Backup
Emailing capability (with network connection)Configurable Data Storage with Backup
Emailing capability (with network connection)
Detector Specifications
PVT: Size 4"(101.6mm) x 3"(76.2mm) x 2"(50.8mm)
Optional Geiger-Mueller tube, size 0.59"(12mm) x 1.9"(45mm)
Response/Sensitivity
Energy Range: 15 KeV – 2.0 MeV
Sensitivity: 8 cps/uCi at 1M with CS137
Gamma histogram: 256 Channels, channel capacity 16 bits
Accumulate dose up to 5.5mSv, custom increase
RC2PLUS BASIC vs ADVANCED
| | | |
| --- | --- | --- |
| Feature | Basic Option | Advanced Option |
| Search+Find | | |
| Total Counts | | |
| Dose Rate | | |
| Dose Rate | | |
| Alarm | | |
| Histogram | | |
| Graph Plotting | | |
| ROI Analysis | | |
| ROI Alarm | | |
| Threshold | | |
| Settings | | |
| Data storage | | |
| Accumulated Dose | | |